Second tree planting volunteer day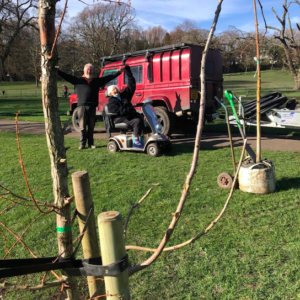 102 year-old Betty Hughes dropped by to support the Friends of Queen' Park volunteers and Citypark's Mark Syrett (seen on the right) who were out planting nine trees on Saturday. She told everyone, with a twinkle in her eye, that she looked forward seeing all the saplings reach maturity!
Betty has promised to drop by again next Saturday (5th March) when there will be another volunteer day to plant a further eight trees purchased as a result of the Friends of Queen's Park successful bid for funds from the Forestry Commission's Urban Tree Challenge Fund.
Here are details of the next tree planting volunteer day:
When: Saturday, 5th March
Meeting point: Open Bakery
Meeting time: 09:30 am
End time: 2:30 pm
Kit: Wellingtons or stout boots and warm clothing. Protective gloves will be provided
Refreshments: The Friends of Queen's Park will provide tea and coffee
Huge thanks to all the volunteers who came to help on Saturday, 28th February. We hope you can come again on Saturday, 5th March.