Play area consultation – have your say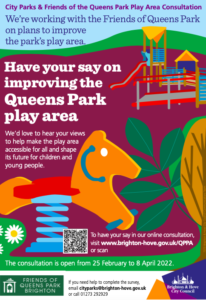 We are pleased to announce that, starting today, the City Council has launched a six week consultation on how to make the play area in Queen's Park more accessible and shape its future for children and young people.
The Friends of Queen's Park has been helped by members of the community who volunteered to be part of a play area sub-committee. It has has been working closely with Brighton & Hove City Council to develop the consultation questionnaire, which can be accessed HERE.
The consultation ends on Friday, 8th April.