Guided tour of Queen's Park's Elm collection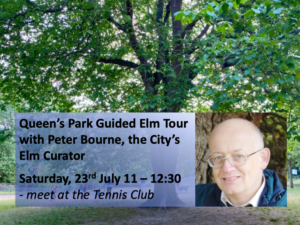 Peter Bourne modestly describes himself on his LinkedIn profile as an "Unqualified Elm Researcher with 30 years experience." In fact, he is one of the country's acknowledged experts in the genus and is highly regarded by Brighton & Hove City Council, which lists him as the city's Volunteer Curator for the National Elm Collection.
Peter will be leading a guided tour of the Queen's Park elm collection on Saturday, 23rd July from 11 am till 12.30 pm. Anyone interested in joining the tour should meet at the Queen's Park Tennis Club. As numbers may have to be limited please email to let us know you wish to take part in the guided tour.