Wild Birds
                                   Our Swifts are back (26/4/12)
                                       
The posse which flies around the Pepperpot seems to have gone up to around seven this year. A pair have been spotted entering St Lukes Church Tower and another the roof of a house in Queens Park Road.
Six Swift Nest boxes are now installed in the Clock Tower so it's fingers crossed that a pair will be tempted in by the CD of Swift calls which plays early and late in the day. For pictures and details of how it was done, click here
Image copyright: Amir Ben Dov, courtesy of swift-conservation.org
2011
A 'Silent Spring' for Song Thrush and Mistle Thrush?
This Spring there are no Song Thrushes singing in the park perhaps for the first time in living memory.  In addition the pair of Mistle Thrushes, which have been a familiar sight in on the bowling green in recent Summers, have also gone.  The hard ground due
3 months of drought is a likely factor as worms become hard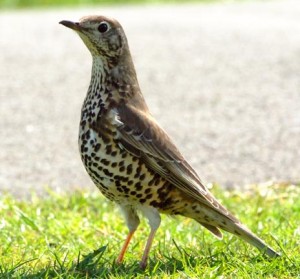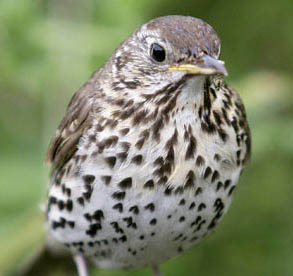 There is also concern about squirrel predation of eggs and young as Squirrel densities in our park are 4 to 6 times the natural woodland count of 2 per hectare (as a result of supplementary feeding).
                                        GOLDCRESTS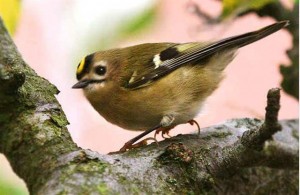 Goldcrest
A pair of Goldcrests have been busy amongst the trees and bushes of the steep West Drive slopes. This, our smallest British bird is a regular winter visitor to the park and the surrounding gardens. It's contact call is a high pitched 'seep', not unlike the blue tits with which it sometimes socialises. It also looks similar to the rarer Firecrest (which over wintered in 2008/9) but lacks the Firecrest's striking black eye-stripe.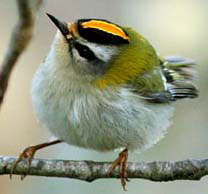 Firecrest
                             SPARROW HAWK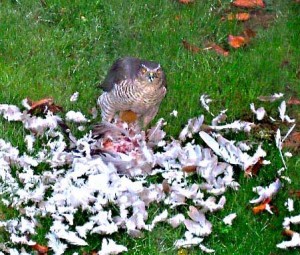 Julia of Barnfield Gardens photographed this Sparrowhawk plucking a pigeon on her lawn. Sparrowhawks visit the park occasionally. A Grey Wagtail escaped an ambush by a pipsqueak last winter. A young Sparrowhawk spent it's first winter based in the Cascade's Elms and Beech in 2007/8
                                  GOLDFINCHES
Goldfinches feeding on the Teasels planted by City Parks in the Wild Garden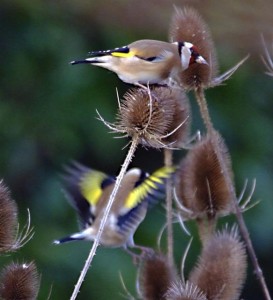 GEESE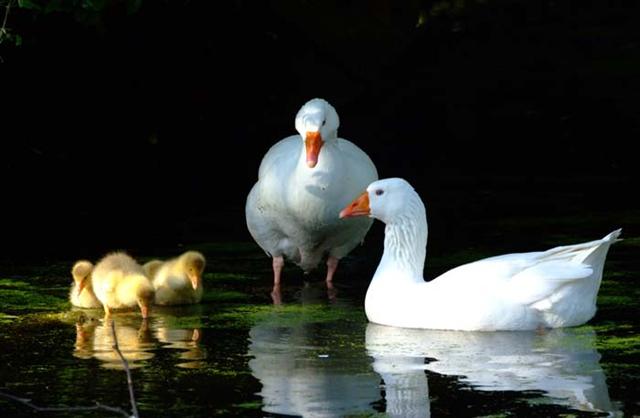 Geese
Our Geese have raised two broods and have grown from five to eleven in the last two years. The extended family is notably attentive and protective to their young.They graze the lawns and pond vegetation for food.
               MOORHENS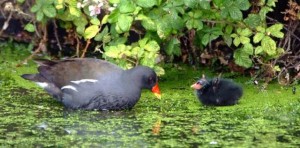 Moorhen
Moorhens nested for the first time last year and raised two broods this year.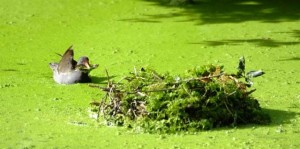 Winter Visitors: Wagtails
Grey and Pied Wagtails are shy visitors to the pond in winter.Calls: tchik or zi-zi and tissik. Grey Wagtail arrived at the end of September.
                      Greater Spotted Woodpecker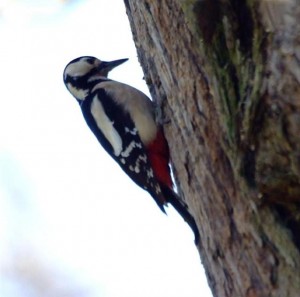 As with most birds, this woodpecker is more often heard than seen. It's call is a loud explosive, tchik! which carries the length of the Park. Follow the sound and you may see it, most probably in the Dog Excercising Area, where this photograph was taken.
                                     HERON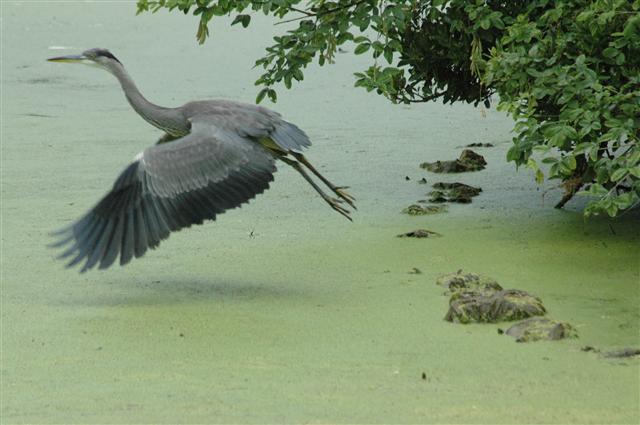 Heron
The arrival of this bird caused great interest in the park in July 2008. It stayed for a month and fed on small pond snails and pond creatures.