Bark In The Park 2014 – Report & Photos of the day
June 28th, 2014
Before I go into what a wonderful day it was ( it was), I would like first to thank those who made it all responsible; namely our sponsors. If you would take a moment to click on their names you will be taken to their web sites, and see what they have to offer to you and your dogs. Our heartfelt thanks to: Coastway Vets, AchyPaw,  Brighton Dog Photography, Bright Paws, The Camelford Arms, The Kemptown Rag, PawPrints, MetroDeco and Snaffles.Our thanks also to Katariina Jarvinen of Light Trick Photography. High res copies of the photos from the pedigree ring can be bought from her via her web site www.lighttrick.co.uk
For those of you wanting to cut to the chase and view the galleries, they're towards the bottom of this page.
There were 452 competitors this year. Worth repeating; 452! We know this because the amazingly smooth registration team of Coastway Vets, co-producers with The Friends of Queens Park of the Bark, tell us so. For the second year running, Coastway ran their hugely successful  Pedigree Ring, with Crufts chief Vet and international Dog Show Judge Dr Andreas Schemel making the hard choices, whilst in the Fun Ring, veterinary nurses Heather Ryan and Hanna Pooke bravely came out of hiding and judged for the second year in a row; previous judges have been known to be harangued in the street months after by outraged owners. Surrounding the rings were more stalls than ever before; anything from a bit of Achypaw and Reiki massage (for dogs), Snaffles handmade biscuits ( for dogs), portrait painters  (for dogs), clothes boutiques ( yep, for dogs) and hairdressers ( same), a lady selling Aloe Vera products ( strangely, same again), and then to Pimms and beer from the The Camelford Arms ( not dogs), burgers and bratwurst ( ironically, the two things the dogs actually wanted but couldn't have), coffee, cakes and so much more. It was, frankly, a wonderful, happy day, as Bark's tend to be.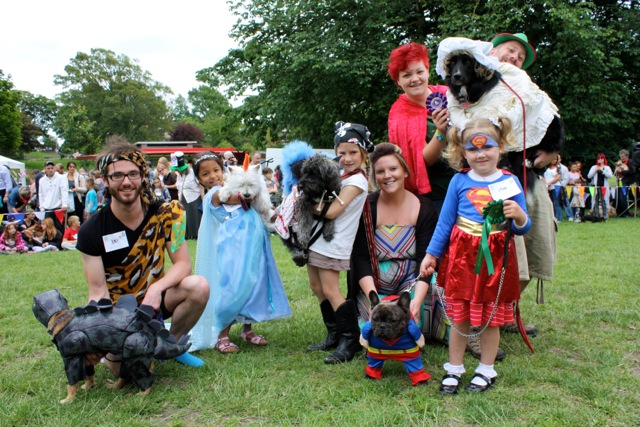 In the Pedigree Ring, Best in Show went, for the second year running, to the amazing 'Frazer' , an Irish Setter, whom I caught sneaking into the Fun Ring earlier in the afternoon trying to walk off with Most Handsome Dog – but breeding isn't everything, and he lost out to a handsome devil called George.  This year all the really Fun Classes were the best they've ever been, with Best Fancy Dress being the funniest I can remember; a huge thank you to all cavemen, Superman's, dinosaurs, Cruella's, Batmen and Robins, Wolves that ate Granny, wasps, ants and snowmen for making such a supreme effort. Though one has to wonder what kind of minds think some of these things up. And then do them.
The highlight, in the Fun Ring, was of course the behemoth that is Best Sausage Catcher, with Seamus becoming a three time champion, and looking at the photograph, you can see why.
Best in Fun Show was Angela Sains and Flora, who also won Best Rescue.
I think the day was best summed up by someone who posted on the Friends of Queens Park Facebook, "It was our first bark in the park yesterday and we loved it, was a very special atmosphere and great fun… ".  It was.  And thank you to everyone who came and made it possible.
Coastway Pedigree Ring Results
AV Puppy
1st Place Hugo Boss & Sharon Galliford
2nd Place Scooby & Romana Lindfield
AV Toy
1st Place 'Tchaikovsky & Stephen Train
2nd Place Floe & JessAV Toy
AV Gundog
1st Place Frazer & Mrs Williams
2nd Place Cooper & Ellie Kausoukis
AV Terrier
1st Place Ozzy & Julia Hanscomb
2nd Place Toby & Emily O'Brien
AV Utility
1st Place Holly & Miss D Watkins
2nd Place Lexi & Paul Exley
AV Working and Pastoral
1st Place George & Andy Kershaw
2nd Place Max & Emily Brown
AV Hound
1st Place Morse & Susan Carman
2nd Place Slinky & N.Gale
AV Open
1st Place Bonny & Miss D.Watkins
2nd Place Lexi & Paul Exley
AV Veteran
1st Place Gethan & P.M.Price
2nd Place Lexi & Paul Bowler
Best in Show Pedigree
1st Place Frazer & Mrs Williams
2nd Place Bonny & Miss d.Watkins
So here are the photos, and there are a lot of them. The Pedigree photos are courtesy of  Katariina Jarvinen of Light Trick Photography. High res copies of the photos  can be bought from her via her web site  www.lighttrick.co.uk. The Fun show shots are courtesy of our own Guy Smythe.
Pedigree Winners
Fun Ring Winners
Pedigree Ring Various
Guy's shots of the day
Katariina's shots of the day 
AND ANOTHER THANK YOU TO OUR WONDERFUL SPONSORS (click on the logo to be taken to their web sites) . . . . . . . . . .