Stalwart volunteer is honoured
October 2nd, 2023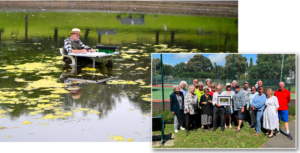 For more than 20 years Chris Lowe has been a Friends of Queen's Park stalwart. Sadly, ill health forced him to step back as an active volunteer and serving on our committee.
His knowledge of local flora and fauna is encyclopaedic, with a special passion for the park's Swift population.
Chris' exploits as volunteer pin-up boy attracted wide coverage in the local media when he posed for a photograph taken by former FoQP committee member Conrad Brunner. It showed Chris sitting at a table in the middle of the pond and was used to illustrate a story about the need for park volunteers (the pond being another of Chris' passions). The striking image did the trick and in August a specially framed print was presented to Chris during a celebratory get together in the club house of Queen's Park Tennis Club to thank him for his years of devoted service.