Sapling tree trail is set up
September 1st, 2022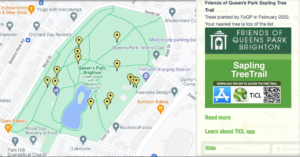 The Friends of Queen's Park, working with Dr Simon Edwards, the developer of the innovative App TiCL, has established its first tree trail.
For the first of what it is hoped will be many trails, the Friends Group decided to create one for the saplings purchased with funds awarded following a successful bid to the Forestry Commission's Urban Tree Challenge Fund.
In March 2022 fifteen out of the 24 saplings purchased with the £14,300 awarded were planted by a team of volunteers supported City Parks' Mark Syrett. They were placed in suitable locations around the park best suited to the species. The remaining saplings will be planted during the coming dormant season.
The additions to the park's tree stock has kick-started the Friends of Queen's Park engagement with local school and in July nearly 150 local school children helped to mulch the saplings.
Visitors to the park can download the TiCL App free-of-charge and look for the Friends of Queen's Park Tree Trail.
Wherever visitors enter the park the nearest sapling will appear at the top of a list of nearby trees. An image of the tree in situ will be displayed and there will be a link providing more information about what is being looked at.
Using the App the Friends of Queen's Park will be creating more tree trails in the future, as well as looking at others such as areas of historic interest in the park. Each will have a unique QR code.