Carols in the Park returns
November 18th, 2021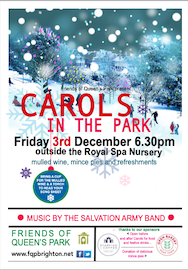 The first Carols in the Park since lockdown restrictions were lifted will return on Friday, 3rd December at the Royal Spa School, Queen's Park.
With the Salvation Army brass band providing the music, the Carols kick off at 6.30pm.  Mulled wine and traditional mince pies will be served.
Those attending are urged to bring their own mugs and torches. All proceeds raised will go towards the maintenance of the Park.
Go paperless! 
CAROL SHEET: please click on this link and share with friends